Lower Manhattan's 25 Park Row Self-Park System Charges Electric Vehicles
25 Park Row is a 50-story marble and bronze tower on City Hall Park in lower Manhattan's Financial District, with famous and iconic neighbors such as the 1913 Woolworth Building. Designed by COOKFOX Architects and co-developed by L+M Development Partners and the Friedman family behind J&R Music World, the 702-foot-tall mixed-use tower was until 2014 a popular commercial site with a rich history. The building now features retail on the ground floor, commercial space on the second and third floors, and 110 apartments up to the 26th floor, with a dedicated 6th floor amenity level designed by Andre Mellone.
Automated Parking System
25 Park Row is equipped with a 21-space 4-high 1-deep PARKPLUS lift-slide puzzle parking system at the back of the building on the ground level. The puzzle system is semi-automated with direct access for self-parking ability. PARKPLUS has installed several of these types of systems in the United States. As high-density parking systems are more prevalent in the US, the puzzle parking system is one of the more popular types, particularly in multi-family developments, due to customizability, cost-efficiency and self-park capability.
Animation of the PARKPLUS 4-high 1-deep Lift-Slide Puzzle Parking system.
The system has multi-level customizability, it can be designed to stack vehicles up to 5 levels high above grade and up to 2 vehicles deep below grade, in a pit. The puzzle system provides fast cycle times using programmable logic controller software and simple, robust technology, and is electric vehicle-compatible with 24/7 remote-monitoring options. The hybrid stacking system consists of a self-supporting structural framework, that can be building-integrated, and independent platforms for self-park storage and retrieval.
Electric Vehicle Charging Integration
EV charging in parking garages is rapidly becoming the new standard across the nation, with code adoptions that mandate new and evolving EV provision requirements. PARKPLUS is directing developers to solutions that meet these and other electric vehicle requirements. The 25 Park Row system is the first lift-slide puzzle parking system with dedicated electric vehicle charging integration, with 4 electric-vehicle platforms on the grade level. The parking platforms are equipped with dedicated post-mounted charging stations and custom charging cables for manual connection when parking.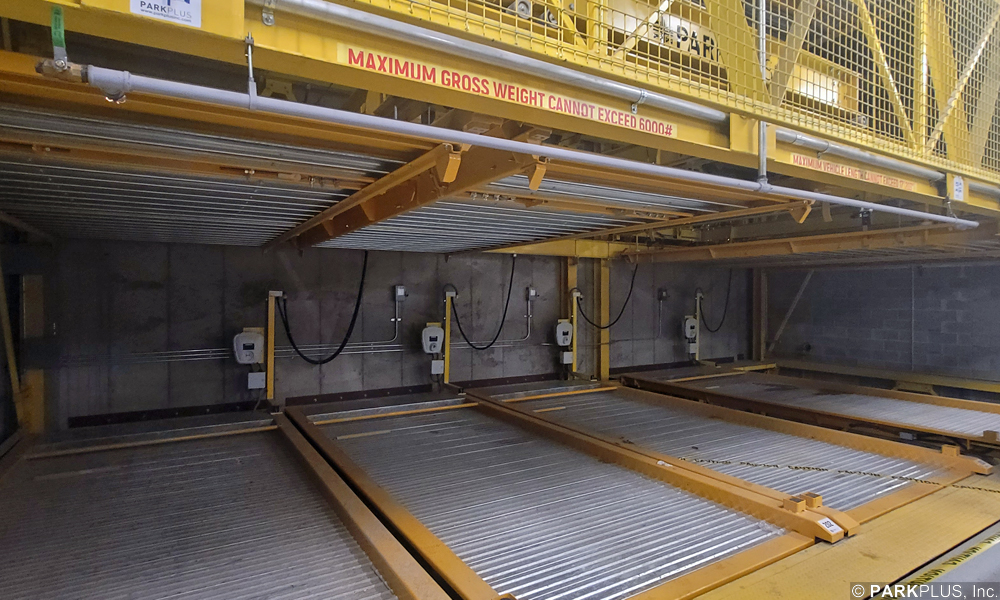 PARKPLUS Electric Vehicle Charging is an integrated solution to provide project-specific EV charging capacity to PARKPLUS automated and semi-automated parking systems. The PPEVC solution is designed for pallet-based parking systems and parking platforms that include power. Parking spaces allowing for EV charging are dedicated for individual parking space owners. EVC spaces can be metered, with billing and reimbursement direct from building to tenant based on a monthly subscription. PPEVC includes 4-Channel Electric Vehicle Control Unit that channels single input power to feed up to 4 individual EV Charging Stations, significantly reducing a building's power requirements for providing EV Charging capacity.