EV Charging in parking garages is rapidly becoming the new standard across the nation as we witness code adoptions that mandate new and evolving EV provision requirements. PARKPLUS is assisting developers across the United States meet these and other electric vehicle requirements.
PARKPLUS Electric Vehicle Charging is an integrated solution to provide project-specific EV charging capacity to PARKPLUS Automated and Semi-Automated Parking Systems. The PPEVC solution is designed for pallet-based parking systems and parking platforms that include power for manual connection when parking. Charging power is connected upon manual connection, or when the parking platform arrives at designated parking space in the garage.
Parking spaces allowing for EV charging are dedicated for individual parking space owners. EVC spaces can be metered, with billing and reimbursement direct from building to tenant based on a monthly subscription.
Reduced Power for EV Charging
PPEVC includes 4-Channel Electric Vehicle Control Unit that channels single input power to feed up to 4 individual EV Charging Stations, Significantly reducing a building's power requirements for providing EV Charging capacity.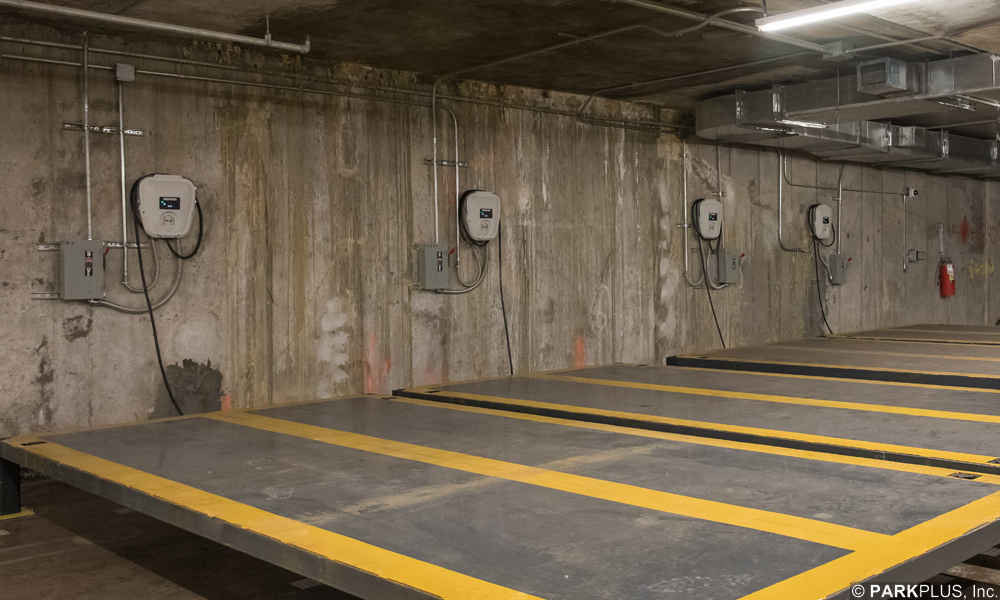 Mobile App Integration
The PARKPLUS PPEVCU App is iOS and Android compatible and available via a web browser. The App integrates with EV-Control Unit to manage and schedule charging. Additionally, the App can be integrated with PARKPLUS APS App (AGV and Rack & Rail) to manage the scheduling, storage and retrieval of vehicles.