Lexus and Toyota of Manhattan Increase Capacity With Parking Lifts
BRAM Auto Group is one of the largest auto groups in the Tri-State area with innovative dealerships throughout New York and New Jersey. The group and its affiliated dealerships have been in business since 1964, serving customers for over 50 years. BRAM is a premier automotive management group, owning and operating dealership locations representing Audi, Lexus, Honda, Toyota, Nissan, Jeep, Chrysler, Hyundai, and Chevy Brands.
Toyota and Lexus of Manhattan have been serving the needs of New York City motorists for years, selling and servicing Toyota and Lexus vehicles in the greater New York area. BRAM Auto group recently bought new flagship premises for its Toyota and Lexus dealerships and service centers between 11th and 12th Ave in midtown Manhattan. The new premises have installed PARKPLUS double and triple stackers for sales inventory and service departments, reducing off-site storage required for sales inventory and enabling increased service capacity, saving the dealerships time and money, and increasing revenue.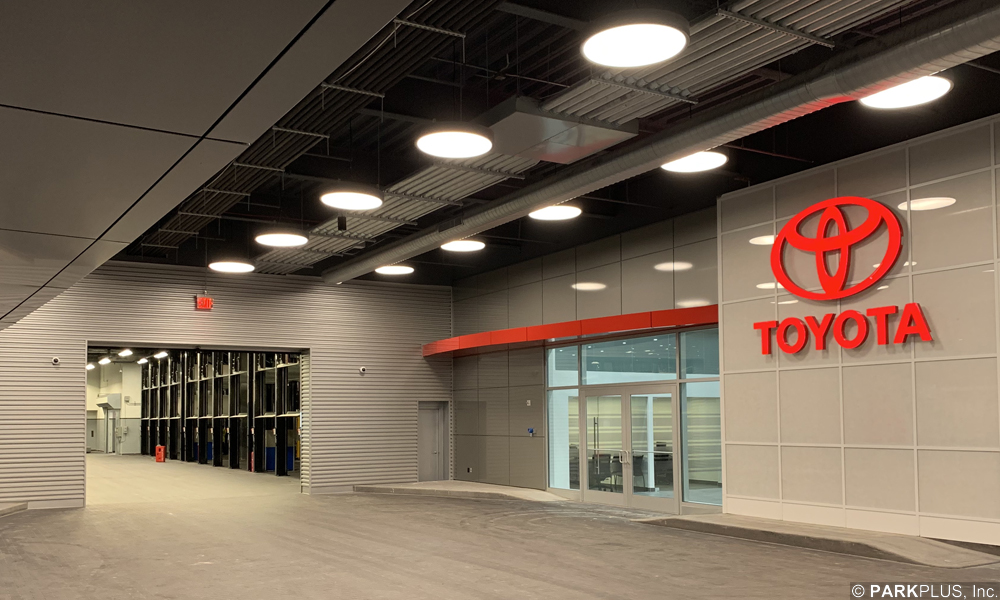 Car Stackers for Service and Inventory Storage
The building is equipped with 84 triple stackers in 3 and 4-deep configuration for maximum vehicle storage capacity. The PARKPLUS TP500 Triple Stacker raises vehicles on nested platforms between shared common legs, for additional parking below. This is the largest triple stacker project in the US.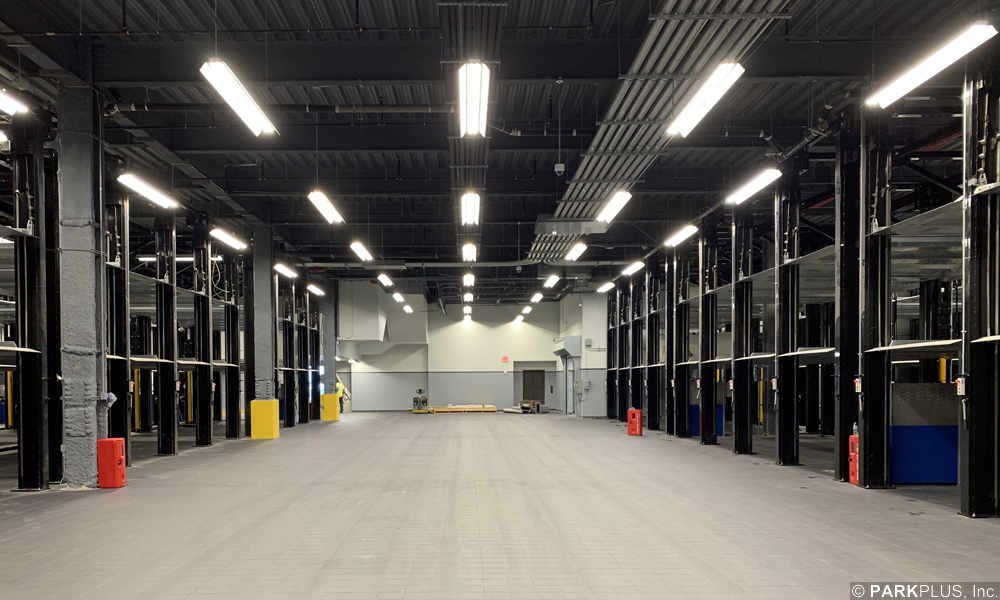 30 double stackers provide extra parking for service vehicles. The PARKPLUS DP003 Double Stacker raises vehicles on cantilevered platforms between shared common legs. PARKPLUS stackers are robust commercial units with height and width flexibility, unique safety customizations, and are approved for use in multiple US Cities.
Auto Dealership Projects
PARKPLUS has installed thousands of stackers across the United States, and dozens of projects for auto dealerships in the United States and Canada, from vehicle storage to custom display solutions. PARKPLUS has worked with all major vehicle brands and auto groups to provide storage solutions, on or off-site service and inventory storage, and bespoke vehicle display platforms to showcase cars.
PARKPLUS custom display exhibition lifts allow dealerships to uniquely present vehicle inventory in showrooms, or to add landmark building features for impactful advertising. In addition to a subterranean 146-space PARKPLUS SP100 Suspended Platform parking system, Mercedes-Benz Manhattan Auto Dealership features 2 PARKPLUS Suspended Lift Display Units above the showroom floor.