Applications:
Automated parking and mechanical parking lift applications include: attended public lots, residential buildings, hotels, multimodal transit facilities, auto dealerships, car rental facilities, mixed-use developments, hospitals, medical centers, commercial office buildings, universities, and airports. A variety of systems that would be appropriate for each use depending on space constraints, upfront costs, operating costs, and other related project design criteria. A major factor in determining which type of parking system to use is whether the system is to be attended or unattended.
Small lots in existing urban areas are prime locations for high-density parking systems. Their use makes redevelopment of these sites beneficial to stakeholders and the community as existing infrastructure can be used, making these small infill lots economically viable.
Existing Buildings:
Adaptable reuse: High-density parking systems can be retrofitted into existing buildings. The modular and flexible design parameters of these systems allow for creative parking design solutions.
Change of use: High-density parking systems are often used by architects and developers when changing the use of an existing building to a more intensive use. For example, an existing industrial warehouse may be parked at a ratio of 1 car per 1000 square feet of floor area; when that building is converted to a creative office building, the parking requirements may change to 4 cars per 100 square feet of floor area. Automated and mechanical parking systems can increase the capacity of existing parking areas and meet such change requirements.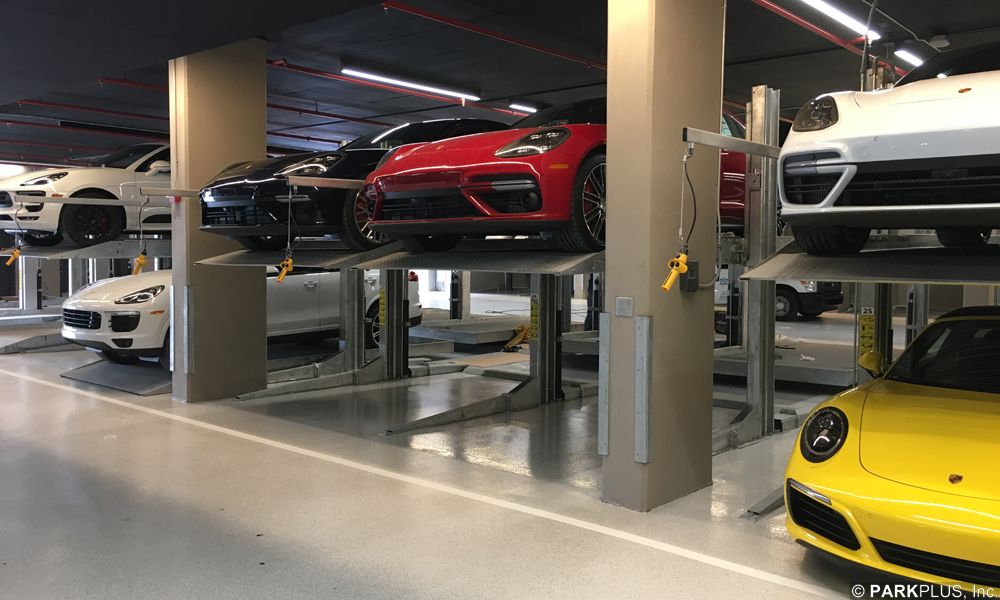 New Construction:
Predesign: Establishing the types of systems used and vehicle envelope requirements for the project is critical in the early design stages. Often one site can contain multiple high-density parking systems.
Column grid: Work with a high-density parking system supplier to establish an ideal structural column grid for the parking based on the project's vehicle envelope requirements.
Occupancy: Most building areas that house high-density parking systems are classified as S-2 occupancies. All area limitations, fire protection requirements, egress requirements, etc. apply to the space housing the parking system.
Structural design: Structural design should conform with the IBC and local building codes, AISC, ASTM, and ASCE requirements. High-density parking systems should be engineered similarly to nonbuilding structures. In seismic zones, the parking systems' lateral-resisting systems must be designed to be compliant with all relevant codes. This typically means all lateral-resisting systems should be fabricated with ASTM approved steel using ASTM approved and tested connections.
Where possible, architects should work with manufacturers who fabricate high-density parking systems using ASTM approved steel. Many manufacturers do not fabricate their systems using ASTM approved materials and tested connections, and will rely on the building structure to provide the lateral-resisting system. This provides additional cost and burden on the building structure. Traveling components within the parking system should comply with seismic codes and be inspected by a licensed state engineer having jurisdiction.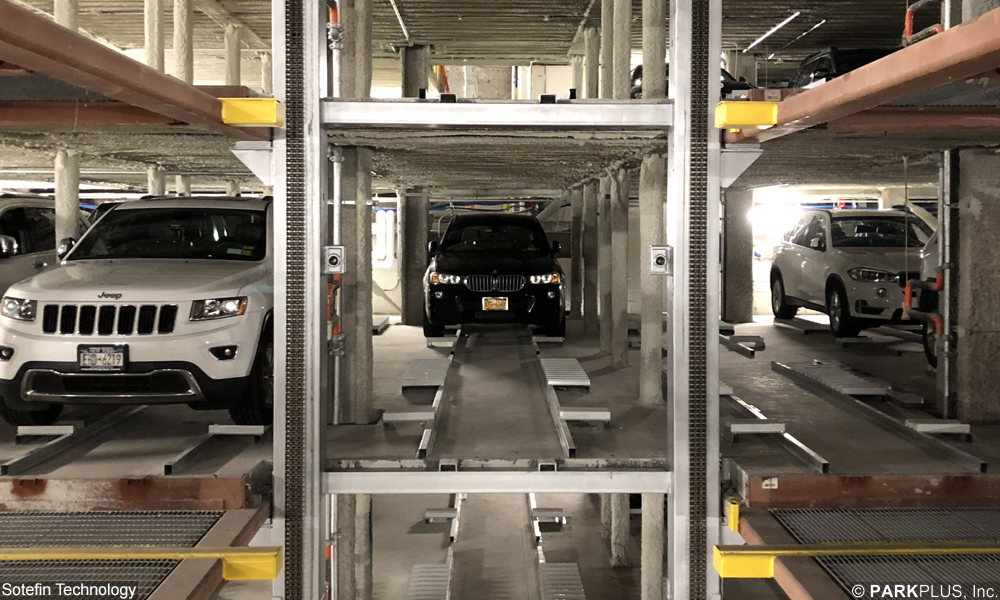 Mechanical: Mechanical ventilation in high-density parking systems is similar to other mechanical spaces within a structure. Large, open-array systems are sometimes considered similar to high-pile storage. Smoke evacuation systems are common in open-atrium-type systems. Consult with your local building and fire departments for their specific requirements. In cold climates, considerations for freezing conditions where applicable should be made.
Electrical: All electrical components should be approved by a testing agency designated by the AHJ over the project. Some cities have their own electrical testing requirements for High Density Parking systems. Where possible, architects should specify that manufacturers use 24V class 2 circuits to eliminate the risk of electrocution. High-density parking systems can be 240V/1PH; 208–240V/3PH; or 480V/3PH. It is not recommended to specify a 480V/3PH system; such systems should be transformed down to 208–240V/3PH; this will allow for a class 2 circuit for low-voltage power distribution throughout the parking system as is required by many municipalities.
Backup power: Many high-density parking systems can be operated manually; others require a backup generator or a connection for a portable generator.
Electric vehicles: Many municipal green building standards require a certain percentage of all parking to be dedicated for electric vehicles. Many automated and mechanical parking systems can accommodate electric vehicle charging stations within the system; however, additional room may be required. Consult your system provider and local AHJ for additional requirements.
High Density Parking system controls: Automated and mechanical parking systems use a variety of control units, hydraulic power units, or PLC panels. Some systems require a dedicated control room while others just an accessible area. The National Electrical Code (NEC or NFPA 70) often dictates the amount of space required for these control rooms or control areas. Typically, system disconnects are located within 5 feet of these control areas.
Spatial requirements: The reduced spatial requirements equate to smaller building footprints and reduced volume, and in many cases up to 60% in spatial savings.
Placement within buildings: High-density parking systems can be designed in the core of structures, allowing for optimal use of desirable building spaces. This provides a more efficient land use without reducing mobility and accessibility for a modern urban environment.
###
This content is part of The American Institute of Architects (AIA) and U.S. Green Building Council (USGBC)-accredited course, Introduction to High-Density Parking Systems. Take the course online or register for/request one of our webinars to learn more and earn continuing education points.