The Holman Automotive Group has adopted a PARKPLUS fully automated vehicle parking system for their proposed new state of the art Mercedes-Benz dealership in Palo Alto, CA. The project has received approval from the City of Palo Alto.
The automated system will form an integral part of the dealership storing new vehicle inventory within the building itself, parking 333 vehicles on a 10,000 sq. ft. footprint, reducing the need for, and cost of, off site storage.
Animation of the Automated System
Having difficulty viewing this video? Watch on YouTube
The system provides an interactive, tactile user experience, engaging the buyer and providing instant access to different vehicle models and specifications, and is considered a solid answer to space and parking issues facing dealerships today.
PARKPLUS Rack & Rail Automated Parking System
The PARKPLUS Rack & Rail Automated Parking System consists of fixed-rail robotic shuttle units using proprietary handling mechanisms (comb-exchange, pincer or pallet), traffic management software, limit switches and lasers to manage the automated storage and retrieval of vehicles with or without trays.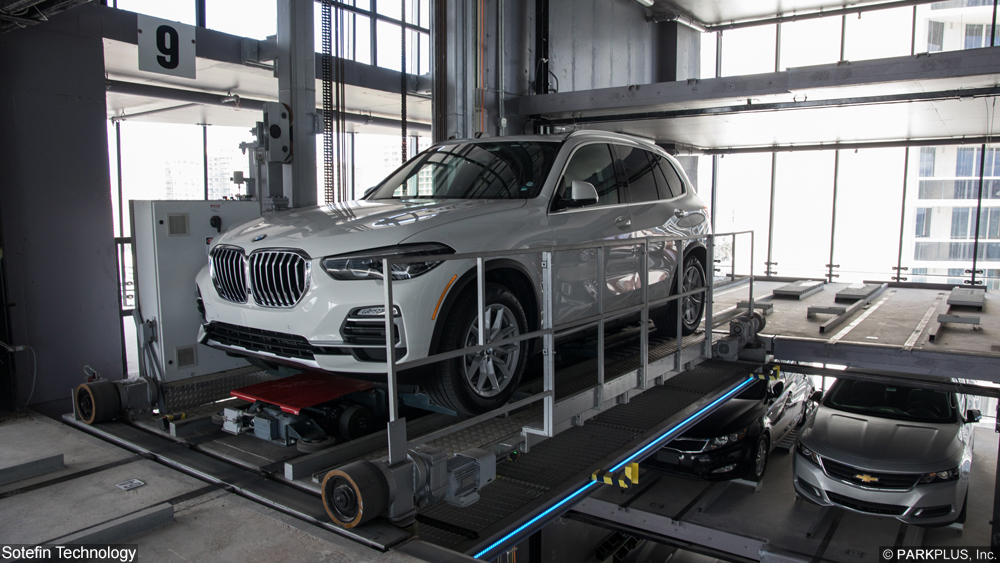 PARKPLUS has installed several automated parking projects in the United States, including the first rack and rail system in the United States, the tallest rack and rail system in the world, and the largest system in Manhattan.